Mental Health can be a sensitive topic of discussion and is surrounded by stigma, despite the fact that nearly half of New Zealanders will meet the criteria for a diagnosis of mental illness at some stage during their lives.
A Hays survey in 2020 found that just 42 per cent of New Zealand's workforce rated their mental health & wellbeing at the time as positive, a drop from 63 percent positivity pre-COVID-19.
With the large amount of time employees spend in the workplace, it's easy to understand that a positive and supportive work environment can be a catalyst for overall mental health improvement. In the same Hays survey, 71 percent of employers said mental health & wellbeing will become even more of a priority in their organisation over the next three to six months.
Why Should We Prioritise the Mental Health and Wellbeing of Employees?
Prioritising the mental health and wellbeing of your employees is not only better for them as individuals, but it is also better for your business as a whole.
Benefits of a mentally well workforce include:
Increased Performance - Healthy minds are more creative, innovative and solutions-focused.
Increased Productivity - Happy staff who enjoy being at work are less likely to take time off, require leave due to sickness and burnout, or leave for another job.
Improved Recruitment - An organisation that's known as a good place to work will be more likely to attract the best employees.
Better Customer Service - When people are mentally healthy, they are more likely to work and interact with people in a positive way.
So, We Know the Benefits of Prioritising Mental Health and Wellbeing, but How Do We Do It?
Everyone has mental health, and mental health problems can affect anyone at any time, so it's important that employers make talking about mental health a normal and safe thing to do in the workplace. Creating a supportive and inclusive environment will enable your employees to feel comfortable sharing their experiences, and will put managers in a better position to help if someone is struggling with their mental health.
A recent poll on our LinkedIn page showed only 58% of people would feel comfortable talking to their employers about mental health. How do we get this number to 100%?
Learning How to Start the Conversation
Enter the Open Minds e-learning modules, developed by the Mental Health Foundation of New Zealand.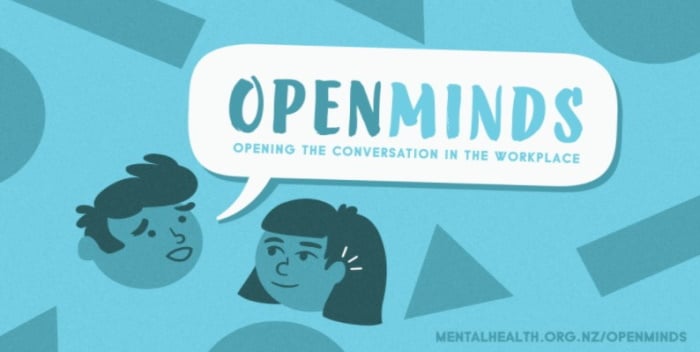 The set of three courses provides people managers with the skills and resources to open up the conversation about mental health challenges and support employees through the tough times. The courses contain practical guides, video discussions, and scenario based learning, fit for managers in any industry and in businesses of any size.
The long-term outcome of Open Minds is that New Zealand employers are able to develop workplace policies, structures and cultures that are more inclusive and supportive of people with experience of mental illness.
Topics you'll find in each module are:
Module 1: Building trust and engagement
The barriers to talking about mental health in the workplace
How to make mental health conversations easier
What we mean by 'mental health'
Module 2: Problem solving together
Normalising mental health conversations at work
Legal obligations around mental health
How to find positive solutions with an employee experiencing mental distress or illness
How to support someone during time off work, and their return
Module 3: Building mentally healthy workplaces
What makes a mentally healthy workplace
Non-discriminatory policies and processes
How to be a mental health champion and influence upwards
How to Access the Courses
The three courses are available on the Intuto platform. If you're an exisiting customer, simply email a member of our team and we can add them to your site.
If you're interested in accessing the courses, but are not yet a customer of ours, you can use the link below to access the Mental Health Courses. You will just need to provide an email address and password to set up an account in Intuto.