It's not just about compliance
As a sometime patient attending a range of medical clinics over recent years, the experience of walking into a clinic that clearly has everything under control has the most wonderful, calming effect. Unfortunately, not all medical clinics can claim that accolade. For those clinics that have let standards slip, the patient experience can be quite simply excruciating. And the difference between these two extremes may be down to simple, easily applied processes.
In short, as a practice manager, do you understand the importance of making sure all employees are properly trained? And by properly trained this means fully aware of the rules and responsibilities, the processes and procedures and the ways that they can make a positive difference to the practice. Can they be reasonably relied upon to demonstrate their knowledge and how might this demonstration be captured? Of course, while the clinic may benefit from initial enthusiasm for training, your teams need to have their training regularly updated and made available continuously. For the purposes of this discussion, we will assume that required professional development is up to date and ideally that your staff that are required to complete formal CPD are encouraged to engage over and above the minimum requirements.
Of course well-trained staff, both patient and non-patient facing, can mean big benefits for the entire practice.
Medical settings are regulated by stringent locally mandated standards so it's not just advisable for medical offices to invest in employee training and development. Government laws and regulations will inevitably require it. And it will be crucial to ensure that such training is logged to support both staff assessment and any audits that might be required.
Having well trained staff will mean a better customer experience. Patient loyalty is improved and your reputation will ensure you are attractive to new patients.
Every organisation needs to plan for gaps in their staffing whether through absence of staff movement. Providing accessible training that covers a range of different roles limits the disruption that staff absence can cause and makes the overall practice simply more efficient.
From the point of view of general Health and safety, in most jurisdictions, employers are required to provide education and training in health and safety as part of their responsibility to provide a healthy and safe workplace. Employers should provide such training at all levels to ensure that management and employees are able to meet their roles and responsibilities.
Induction training (including information about workplace standards, hazards, risks, controls, the use of personal protective equipment, accident reporting system, and emergency procedures) is a crucial first step with every new employee but should also be considered for existing employees on a regular basis.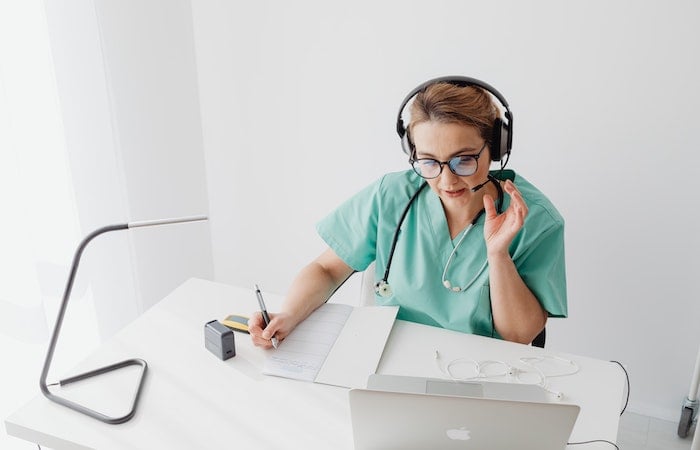 All centre training should be coordinated with the overall management plan of the centre. In an ideal world, if an organisation is using an online platform to provide and track the training this should be integrated with the on site HR system. This will help all training needs have been identified on a staff by staff basis so maximise the opportunity for the best possible overall result.
With the continuing development of online tools which are increasingly being offered at low cost there is no need for any medical practice, regardless of size, not to benefit from the tremendous advantages to training efficiency that can be gained from a review of a centre's training needs.
To get a better understanding of the type of course templates offered by Intuto, below you can access our Open Minds Mental Health Course.