Starting a new job is a rewarding and challenging time for a new employee. The employee's excitement about the new role is often accompanied by confusion about what is expected of them and the processes of the job, which can be incredibly frustrating. As these first few days leave a lasting impression, it's important to limit the confusion and frustration as much as possible, which is where a good induction program comes into play.
Induction training is a form of introduction for new starters that enables them to do their work in a new profession or role.
A thorough new employee induction training must cover a range of key topics, including:
A full health and safety briefing showing your evacuation plan, workplace hazards and safety requirements helps embed your company safety culture from the start
Tools and equipment needed for the job, as well as training on correct usage
Contact details in case of absence or emergency
Clarification on start, finish and break times
Clear outlines of company rules and policies as they apply to the employee and their role
Completion of relevant contracts and IRD forms
Creation of an employee personal file
There are several key benefits – for both you and your employee – of good induction training.
Firstly, employees are given accurate information about the role and the company, and expectations and responsibilities of employees are clearly outlined, helping to avoid misunderstandings and inefficiency later.
Next, employees are busy and focused from day one, and good work habits are ingrained early. Induction training also creates a professional impression of the company and of you as a manager or employer.
Lastly, it makes sure employees feel welcome in the company – a good induction process is proven to improve employee retention and job satisfaction.
However, there are also downsides to providing thorough induction training, like the opportunity cost of lost working hours of the new employee and the manager or trainer.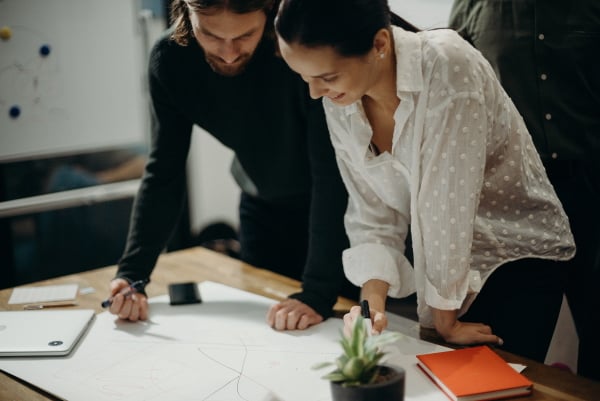 In addition, the real costs of the training process can include large amounts of printing, travel expenses and equipment usage. On top of that, some companies opt to do a set number of training sessions throughout the year, instead of for each individual new hire, meaning days or weeks of inefficiency while employees wait for their induction.
Online induction training almost entirely eliminates these limitations by cutting costs, saving time and increasing efficiency.
With Intuto's online training courses, the induction process has virtually no downsides.
Reduce cost - Content-heavy documents, like staff handbooks including H&S policy, standard procedures and workplace rules can be uploaded to your Intuto company homepage instead of printed and distributed, saving money on paper and printing costs, and making sure employees always have access to a copy for reference. In addition, online training means that there are virtually no travel costs of sending managers to induct staff at different locations, or sending employees to a central location. In fact, organisations can save up to 70% on training by replacing conventional programs with digital ones.
Reuse content - Once your Intuto training program has been created and saved, it can be used again and again, without having to produce and repeat a new presentation every time. Then, when changes need to be made to the program, your content can be tweaked as necessary and even distributed to existing staff for a refresher course.
Improve learning - Studies have shown that e-learning actually improves knowledge comprehension and retention. Intuto's online courses can incorporate text, multimedia and even testing to get the most from an induction process. There is even a space in which new hires can raise any questions they have about the induction with their manager or trainer.
Get ahead - The most important benefit of online induction programs, however, is the ability to get a head start on training. As soon as a new hire signs a contract, you can have them signed up to Intuto and going through your induction process. Mobile-friendly formatting means they can start learning anywhere at any time, so when their big first day rolls around, they'll be all ready to go! This maximises efficiency, and means the employee already feels confident and involved by the time they start – making them a valuable addition to your team.