What do crossing signals and Safety Culture have to do with each other?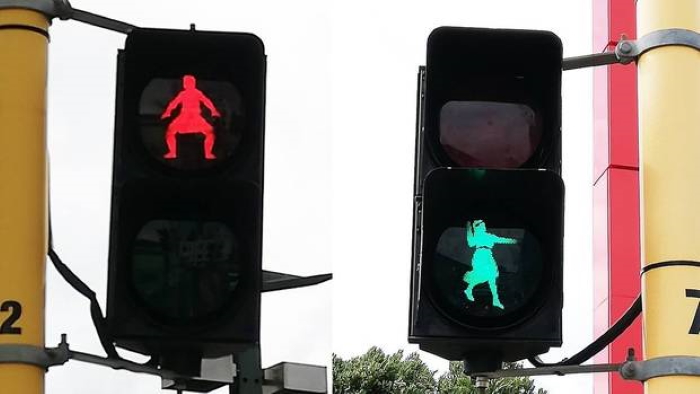 Anyone having a casual walk around Wellington New Zealand in the early months of 2019 would have been far more likely to have kept to the rules in relation to crossing the road. Crossing roads in such a beautiful and fascinating city is often fraught with risk as pedestrians are distracted by all the city has to offer and tend to ignore the crossing signals.
But during the early months of 2019, there was something special that the council had installed that made people stop every time they came to a set of crossing lights. Rather than just cross against the lights, you could see people all over Wellington actively looking at the crossing signal and in fact pausing in expectation of the signal changing.
Why? Well, the clever folks at Wellington Council had reprogrammed the pedestrian crossing lights to reflect various city cultural icons. There was a Drag Queen popping up in Cuba Street, Kapa Haka made an appearance in various locations and in the streets around Parliament, the lights celebrated New Zealand Suffrage.
How does an amusing change to pedestrian crossing signals relate to a safety culture?
Well, what was a very clever city focussed attention grabber that was presumably developed to celebrate had the added benefit of driving public safety. And this is a wonderful example of how small, 'soft' things that can be done within organisations can positively influence or 'nudge' the development of an internal safety culture
Here are three 'soft' actions that every organisation can implement that will help move that organisation toward developing a positive safety culture and as a result, improve the chance of everyone in the organisation going home safely every day.
1. Do the unexpected
Let's look back at the crossing signals. No one expects to be delighted by traffic guidance and as a consequence, traffic guidance is often ignored with, on occasion, dire consequences. In some instances thought, traffic safety measures can bring a smile and as a result, greater compliance. You've only got to look at the work done in Denmark in 2006 to see how a lighter approach makes a significant difference.
And in New Zealand more recently, Woolworths central distribution centres took a very serious approach to changing the safety culture in the company, but it was certainly unexpected. The company was aware that there was a sense that "it won't happen to me" among the staff. So, they hired a makeup artist and using some of the staff created 'accidents' based on potential dangers. The resulting images were reproduced and used on the aisle ends of the multi-level stacks.
The result, a significant improvement in the awareness of potential dangers and a positive change in behavior all based around doing something unexpected.
2. 'Anoint' a Safety Champion
I think we can use the ecclesiastical reference in this context because while the concept of an internal safety champion is well understood, don't make the mistake of 'appointing' someone, particularly if this appointment falls under a 'make work' approach. You need to make sure that your safety champion is passionate about an internal safety culture, has the background that allows them to transcend petty issues and is prepared to communicate with a higher power to get the job done.
In short an enthusiast who wants the role, not a staff member who is told to do the role. A very important difference.
And once this person is anointed, make sure they get the resources and the access to the C Suite that they'll need to ensure that your organisation develops a great safety culture.
3. Reward the behavior you want to see.
All staff have a personal interest in safety (no one wants to hurt or be hurt), but everyone loves recognition and reward. Organisations can see significant improvements in their ROC with a strong safety culture so when you see a positive change in your bottom line, whether this is a financial or more holistic measure make sure there is some recognition of the improvement and ideally that the staff see a hard benefit. It doesn't always need to be financial ( that would be nice) but a positive recognition of good behaviour needs to be in place and adhered to.
Think about 'Safety Employee of the Month', a mention in the newsletter, days off and gift baskets based around their homelife (remember that families are a huge influencer in safety behaviours). Ultimately though, rewarding positive safety behaviour with internal rewards such as bonuses, and promotions strongly reinforces the the internal safety message.
Of course, you shouldn't forget the importance of training as a tool to develop a strong safety culture. This is a crucial element that every organisation needs to implement and once implemented, allows for instant recognition of staff who complete the required training. This is especially true for organisations that have gone down the online training path. Instant certification means every successful completion gets recognised. And think about collecting recognition points inside the system and using those for additional rewards. Hey, why not get the staff to build the organisation's safety training themselves. An easy to use system with an embedded authoring tool would make this a breeze.
So talk about how these three things could be implemented in your organisation next time the planning team gather. You might be surprised at how easy it is to see positive change.
But remember, to understand the change. You need to have the tools in place to measure the change. A subject for another day.