This week's first go live was full of performance enhancements, bug fixes and an improved journey for brand new users. We are aware however that a lot of our existing customers might not see or care too much about these, so along comes this week's go live #2!
Along with even more general bug fixes and improvements similar to the previous go live,
we've included a new way for you to contact us from within the Intuto system!

You'll now see this little button at the bottom of every page after you have logged in.
This creates a direct line of communication to our support team from within the system, helping you get in touch with us much faster if you have questions or find an issue.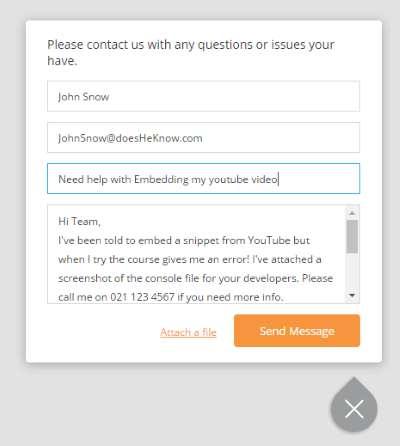 But the really awesome part is it gives us additional information that will help us with any issues you may be having. While we work really hard to prevent any bugs, from time to time stuff sneaks through. Now when it does, we want to make sure you're able to get help as easily and quickly as possible.
The form is easy to use, simply put in a subject and description of your problem and we will get back to you ASAP. You may also consider adding a screenshot from your browser console. If unsure how to do this, we have a guide HERE:
As always, we would love to hear from you and we hope this update makes that even easier. Of course you can still email us at support@intuto.com or call us on +64 9 970 3270.