High-quality training is essential for every level of your healthcare organisation, from healthcare providers and assistants to managers and directors. A strong online learning solution is a great way to ensure everyone understands their own roles and how they relate to other roles. This helps to give staffers the necessary knowledge, skills and confidence, which can be the difference between life and death for patients and clients and improve every aspect of your organisation, from admin and customer satisfaction to employee retention. A scoping review found that e-learning in the healthcare field can enhance an education experience, support development, ease time constraints, overcome geographic limitations and can offer greater flexibility.
It's important that everyone at every level of your healthcare organisation receives excellent training in their own role, as well as thorough cross-team training and team development.
Owners and directors
The owners and directors of your organisation will benefit from online healthcare training as much as their employees and clients, by cutting costs, improving service and keeping staff happy. Also, if training happens online, it's easier for them to have a thorough overview of every level of training throughout the business than if all learning was happening in person.
Human resources
E-learning is especially useful for HR managers, as it allows them to use online training platforms to recruit and onboard new talent, and develop the skills and potential of current staff. It makes it much easier for HR to monitor policy and compliance training and update or refresh it when necessary, avoiding expensive mistakes or accidents. Plus, around 42 per cent of companies surveyed globally say that online learning directly led to increased revenue.
Healthcare workers
Healthcare workers in your organisation – whether that's nurses and doctors, medical assistants, physios, chiropractors, dentists or anyone else – will benefit from constantly updated, always available training to keep their skills and knowledge up-to-date. Online training is particularly helpful for people who work as healthcare providers as their schedules can be irregular or unpredictable, so being able to do e-learning whenever it suits makes it easier to fit it in. It's also much easier to include global content and events in online training platforms than sending people in person.
One extremely useful way in which e-learning can be employed for healthcare providers is simulation: a close duplication of real clinical situations in order to facilitate learning that has now become an essential tool in healthcare education and training. It allows trainee practitioners to minimise harm as a result of the learning curve by practicing procedures or responding to scenarios repetitively in a safe environment, at the trainee's own pace and time, until they are fully competent. This delivery option also allows for the practice of interpersonal skills, such as bedside manner or conflict resolution.
Administrative staff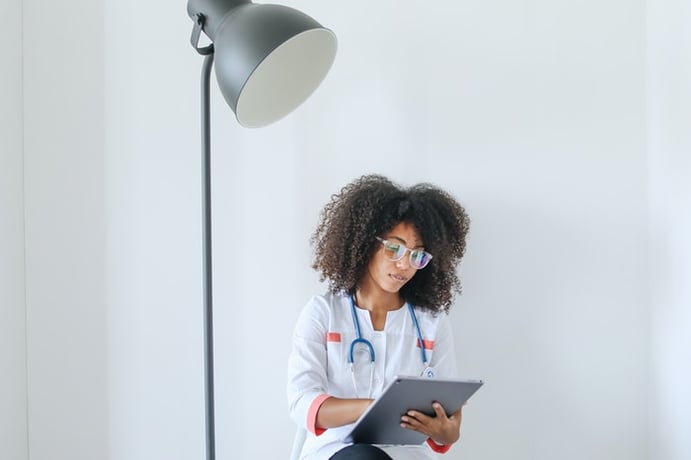 You may not consider admin staff as needing much in the way of training beyond their onboarding, but it's actually vital that they're well versed in how your business works and have at least a basic understanding of the medical field in which you operate. Having admin staff who have been thoroughly trained will improve client experience, mitigate risks, reduce costs and support medical staff. Having online training available to them means they can easily and inexpensively learn more about the medical field, making them even more valuable to your organisation.
Here are some of the key benefits to a thorough and effective online training program for your healthcare organisation:
Improve patient or client care
If your employees are getting regular and high-calibre healthcare training, it means your patients or clients will naturally receive a higher quality of care. As well as the actual medical skills and knowledge, your staff at every level will have improved bedside manner, administration and hygiene skills, which are vital for ensuring a successful practice.
Mitigate risks
The most important benefit is that it will help to keep your patients or clients, as well as your employees, safe. Training employees in everything from equipment usage and best practice to personal care helps avoid accidents and mistakes at every stage of the organisation. This, in turn reduces the costs of compliance penalties, high insurance premiums and damage. By offering this training online, it's easy for staff to continuously update their training and refer back to materials so they are always operating at the highest levels of safety.
Improve employee retention
Continued professional development is one of the key things employers can offer to help retain staff and keep them happy and engaged. In fact, a LinkedIn report showed that 94 per cent of employees would stay with their current employer longer if there was more investment in training. Offering your healthcare training online means that you can offer literally constant training for a small investment that will produce impressive returns. As well as having more experienced staff, you'll reduce the costs of recruiting, hiring and training new staff. You'll also have more engaged and satisfied staff, which makes your business more efficient.
Improve teamwork
Online healthcare training can help to break down staff silos by including information about all roles in specific training units, so everyone understands how their role fits with and supports everyone else. Training courses also offer the opportunity for combined training and team development activities that can help you build a sense of teamwork. This is especially important if your organisation operates across more than one site. An example of this is TBI Health, a New Zealand-wide physiotherapy and rehabilitation services organisation, who turned to Intuto to convert a number of staff induction and specific product training to effective online courses, increasing teamwork nationwide.
Make the most of resources
As well as the financial benefits of reducing employee turnover and mitigating risks, Intuto's online training is significantly less expensive than traditional in-person training. This means you can stretch your training budget further and offer more extensive, more targeted or more frequent training, reaping even more benefits. You'll also save valuable time – online training takes 40 to 60 per cent less time than traditional face-to-face classrooms.
If you're ready to use online training to boost your healthcare organisation, get in touch with us to find out more.