At Intuto, the customer is at the heart of everything we do. We heavily invest in our customer experience team, and we are constantly looking for ways to improve our customer experience.
The three main pillars of our customer service are fast response times, taking on customer feedback, and offering an experienced in-house production team.
Fast response times
Our team is on hand to answer all client queries and help with any system issues that occur at any point from onboarding throughout the duration of the relationship.
We currently have a happiness score of 99 per cent, due to our average 30-minute response time during business hours – something we're incredibly proud of.
Taking on customer feedback
One of the biggest drivers of feature changes and updating the Intuto e-learning platform is making sure that we are updating to suit our customers' needs. Every time a customer makes a suggestion, we add it to our development board and customers can ask us for updates on their suggestions at any time.
We are careful to include features that will add maximum value to our customer base, which can be challenging because we have customers across the world, and what works for a customer in the UK may not always work for someone using online learning in NZ (or vice versa).
One of our most successful developments was creating Collections, which allows our customers to link courses together and use Groups to automate enrolments. This has been hugely successful and is used by 98 per cent of our customers.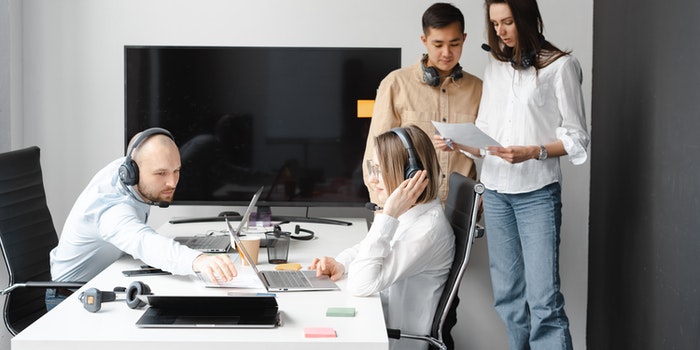 In-house course production team
To help our customers get online quickly and efficiently, we have an experienced in-house production team. This team can provide a range of services from training content loading, interaction and exercise building, providing feedback on courses loaded by our customers and sharing best practice and guidance on creating engaging online learning.
Our customers love this service because it means that they don't need to upskill their own staff and can get online training modules made for them at a high quality. Particularly for smaller companies, it can be impractical and inefficient for the learning and development team (if there is one!) to take responsibility for designing, loading and managing effective online learning courses. Find out more about our content loading service and why our customers love it.
The production team also works with subject matter experts, many of whom are also Intuto customers, to create courses in our template gallery. This library of over 80 courses can be used off the shelf or customised to meet needs of different audiences. The courses cover everything from soft skills to compliance courses like health and safety right through to cyber security, so you're sure to find something to fit your needs.
Intuto's Customer Experience Creed
An experience beyond the platform
We strive to make Intuto rich in features and easy to use, but behind every line of code and learning feature is a real person who sincerely wants to help you create beautiful e-learning experiences and deliver great learning outcomes.
Fast and friendly support
Intuto has a team dedicated entirely to delivering an amazing customer experience who want to help you get the most out of your Intuto experience. They spend every day answering emails, connecting one-on-one with customers via video conference, sharing best-practice tips and advice through social media, and developing support resources to help our customers. Except for a few days around the holidays, you'll receive same-day service every business day of the year.
You're kept in the loop
You won't get radio silence from us. We'll email you when new features are released, schedule annual reviews to make sure you're getting the most out of your Intuto site; let you know if anything goes wrong; and post system status updates on our social media accounts.
You feel heard
Our support team tracks requests for new or updated features so that we can refer to them whenever we're considering changes. We also regularly interview customers to learn how we can make Intuto more useful to organisations of every size.
We'll never burn a bridge
We know there are other products out there that you can use and one of them might be a better fit for you. That's OK. We won't hassle you or make it difficult for you to leave Intuto; we'd rather part on good terms and maybe see you again down the road. You sign up when you're ready and you can cancel if you need to. We can even help you export your data and courses at minimal cost.
If you want to find out more about our world-class customer experience and NZ-based online learning platform, get in touch today.