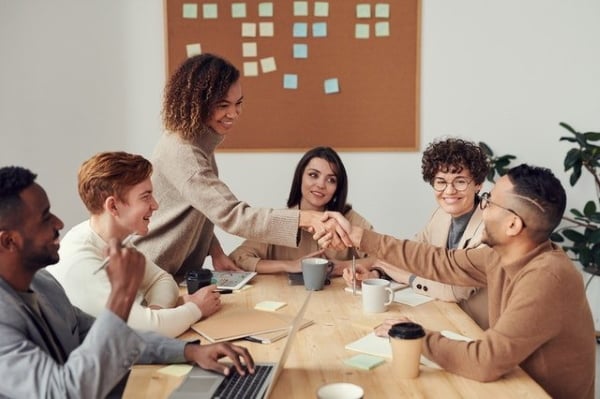 If your business is a franchise or operates across multiple sites – whether that's hospitality, retail, warehouse or office settings – it might be time to move your training, onboarding and development online.
Common problems faced by a spread-out business model includes difficulty with training frequency and consistency; compliance tracking; travel time and cost; training and knowledge updating; site-specific training; and businesses oversight.
The simple solution to all these issues (as well as several others) is online training and e-learning. A good e-learning platform saves time and money, ensures consistency and ease of training and allows for easy-to-comprehend business-wide reporting.
In an ideal world, all franchisees or staff members from all sites would be able to attend face-to-face training together so the level of training was consistent across the company and you could easily see where the gaps in understanding were in real time.
In reality, getting dozens or hundreds of staff members in the same room at the same time is difficult at best, outright impossible at worst. It would require you to halt operations for the duration, may force some workers to travel and will carry running costs such as space rental and trainer fees.
By shifting your training online to a quality e-learning platform, you can provide identical training to all staff and franchisees across all sites anywhere in the country, while also eliminating all the costs and logistics. It allows staff to complete the training in their own time or on a site-by-site basis, whichever makes more sense for your business. And with the average online course taking around 18 minutes to complete, it will make more sense to trainees as well.
One of the most important – and most challenging – features of any multi-site business is the different nature of each site. Each one will have different considerations depending on where they're located, including cultural, linguistic, economic and regulatory.
Intuto's e-learning platform allows you to create multiple training courses to ensure all your bases are covered. One main course can cover the business as a whole, then smaller courses can address specific branches of the business, locations of sites and jobs within the business. Having these specific shorter courses online and only issued to the relevant employees or franchisees will save the dead time often encountered at mass trainings.
In addition, because the training program is stored in your e-learning platform, you can use it again without incurring additional costs, whether it's for a business-wide refresher course or for onboarding new employees or franchisees.

When onboarding new employees, you traditionally had two options: either run individual onboarding training for each new start as they joined the business, which is expensive and inefficient, or wait and onboard a group of new starters monthly or quarterly, which meant people could be waiting up to three months for their initial training. This becomes even more problematic when you're considering multi-site organisations, as inevitably this incurs travel costs, either for the inductees or the trainer.
Online onboarding with Intuto's e-learning platform means onboarding can be done before an employee or franchisee even starts work, in their own time and at a location that suits them. No more expensive one-on-one sessions or quarterly group sessions, while still getting new starts off the ground and adhering to relevant OHS regulations.
An essential part of training, of course, is tracking, assessing and reporting. If you're relying on a single trainer to perform all those additional roles across the whole company, that's a lot of pressure – not to mention a lot of work – for one person.
A good e-learning platform tracks, assesses and reports comprehensively on training and outcomes business-wide, making it easy to see which areas need work, ensure compliance with local regulations and, importantly, compare how each site is performing.
You'll be able to track how long people are taking on each page, what questions they got right and where they need extra help. With Intuto's online training, the entire journey is trackable so you can be confident the right objectives in each course are being emphasised.
Based on this reporting, you can adjust the training across the board or address specific issues with certain segments of your business – something that's much harder to do based on the results of face-to-face training.
This oversight across the business is important as part of your business development plan. With Intuto's e-learning platform, you can organise the business in different ways – such as sites, jobs and gaps in knowledge – then track them individually and assign specific courses as necessary. You can also automatically report on the business as a whole or in a variety of segments, making your administration much easier and faster on an ongoing business.
As a franchise or a multi-site business, you're undoubtedly constantly updating your business, whether that's new protocols and processes, new tools or new recipes.
If you're using Intuto's online training and e-learning platforms, rolling these developments out to employees or franchisees is as simple as creating a short course for them to do wherever they are, at a time that suits them (within a timeframe). From there, you can track completion and understanding across the whole business, and supplement with extra information and training if necessary.
If your multi-site business or franchise needs a training-process overhaul, get in touch with the Intuto team and see how we can help.